315 MAIN AVENUE, MOORHEAD, MN
INTRODUCING SERVICE INDUSTRY NIGHT IN THE TAVERN - EVERY TUESDAY FROM 5-9PM
Includes Happy Hour pricing on pizza & apps, exclusive features, & $5 beer + shot for restaurant/bar employees.
STARTERS
5 dollars off during dine-in happy hour from 5-6pm
CHORIZO-STUFFED DATES [gf]  |  10
bacon-wrapped, served with chile aioli
BEEF TACOS  |  10
two flour tortillas with chile-braised beef, roasted garlic, tomato-basil relish, crème fraiche, cilantro
SPANISH STYLE MEATBALLS  |  12
sherry-mushroom cream sauce, crispy prosciutto, manchego cheese, tomato confit
BUTTERMILK FRIED CHICKEN  |  14
green chile ranch & tomato preserves
ROASTED VEGETABLES [gf+r, v]  |  12
served chilled with hummus, spinach pesto, sundried tomato pesto
BURRATA CHEESE PLATE [gf+r, v]  |  14
marinated grape tomatoes, spinach pesto, toasted bread
ANTIPASTO [gf+r]  |  16
prosciutto, salami, olives, balsamic mushrooms, cheeses, toasted bread
SOUP + SALADS
CHEF'S SOUP
cup 4 | bowl 8
QUART OF CHEF'S SOUP
takeout only | 12
HOUSE SALAD [gf+r, v]  |  10
roasted tomato & onion, artichoke, herb croutons, sherry vinaigrette
KALE CAESAR SALAD [gf+r, v]  |  10
roasted garlic & tomato, herb croutons, lemon-parmesan dressing
SPINACH SALAD [gf]  |  10
blue cheese, pomegranate, crispy prosciutto, toasted almonds, apple cider vinaigrette
Á LA CARTE
PARMESAN POPOVERS [gf]  |  2
four per order, served with tomato preserves
RUSTIC FRITAS [gf]  |  5
served with chile aioli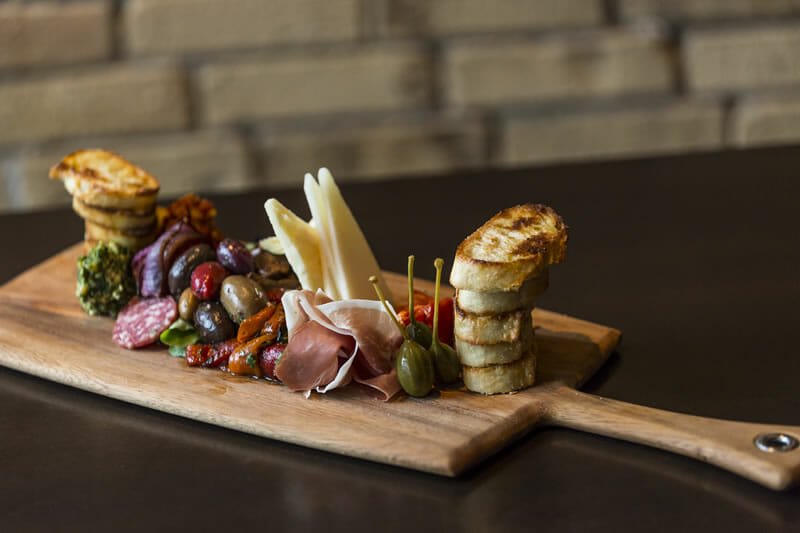 ENTREES
THE RUSTICA BURGER [gf+r]  |  15
7 oz. beef patty, mahon & cheddar cheese, caesar aioli
served with rustic fritas
5 dollars off during dine-in happy hour from 5-6pm
BAKED MAC-N-CHEESE  |  18
cavatappi pasta, smoked gouda cheese, crispy bacon, herb breadcrumbs, toasted bread
CRANBERRY GLAZED CHICKEN BREAST [gf +r]  |  26
sweet potato mash, candied bacon relish
PORK PORTERHOUSE [gf+r]  |  30
12 oz. bone-in center cut pork chop, whole grain mustard mashed potatoes, bourbon-apple relish, fried sage
BLACKENED SALMON FILLET [gf]  |  29
roasted baby red potatoes, poblano maque choux, cajun aioli, cucumber-lime salsa
ROASTED VEGETABLE POLPETTONE [gf, v+]  |  20
stuffed with spinach + wild mushrooms, balsamic-tomato glaze, fried basil, roasted baby red potatoes
PASTA CHORIZO  |  18
house made tagliatelle, chorizo, roasted garlic, fresh mozzarella, spinach pesto, tomato cream sauce, toasted bread
SIGNATURE WOODFIRED PIZZAS
THE BAMBINO  |  10
tomato sauce, mozzarella
MARGHERITA  |  12
tomato sauce, roasted tomato, mozzarella, basil
THE STEADFAST  |  12
tomato sauce, pepperoni, mozzarella & asiago, parsley
THE HAOLE  |  12
tomato sauce, pork belly, pineapple, roasted jalapenos, mozzarella & provolone, scallions 
THAI CHICKEN  |  12
peanut sauce, shredded chicken, roasted onion, pickled fresno chiles, spinach, mozzarella + provolone, fresh basil
THE ROMAN  |  12
olive oil, italian sausage, roasted sweet onions & tomatoes, asiago & ricotta, parsley
THE DECOY  |  12
olive oil, duck confit, roasted grapes & garlic, goat cheese, basil, balsamic reduction
FRENCH FARMER  |  12
béchamel, wild mushrooms, brie cheese, egg, spinach, truffle oil
MR. POTATO HEAD  |  12
béchamel, sour cream mashed potatoes, caramelized onions, gruyere cheese, rosemary & parsley
THE MEDITERRANEAN  | 12
spinach pesto, bell pepper, olives, capers, artichokes, sundried tomatoes, asiago, pine nuts
BBQ CHICKEN  |  12
barbecue sauce, shredded chicken, roasted garlic + onions, provolone, mozzarella, scallions
DESSERTS
SOUTHERN-STYLE BUTTERMILK PIE  |  8
blueberry sauce, fresh whipped cream, fried basil
DARK CHOCOLATE POT de CRÈME [gf, v+]  |  6
fresh whipped "cream", pistachio
CHURROS  |  6
chocolate ganache, strawberry coulis
gf = gluten friendly  |  gf+r = gluten friendly upon request  |  v = vegetarian  |  v+ = vegan
*Consuming raw or undercooked meats, poultry, seafood, shellfish, or eggs may increase your risk of food-borne illness.
* 20% gratuity will be added to all parties of 8 or more.
TAKEOUT EXCLUSIVE ITEMS
available for takeout only, in addition to our FULL DINE-IN MENU
BEVERAGES AVAILABLE FOR CURBSIDE PICKUP ONLY — CALL 218.227.5388 TO ORDER
DRINKS
Only Available Curbside with Food Purchase
750ml wine bottles | 15
sparkling
Moscato, Spumante, San Maurizio, Italy
Cava, Bohigas Brut Reserva, Spain

white & rosé
Pinot Grigio, Tavo, Italy
White Blend, Pine Ridge, California
Riesling, Two Mountain, Washington
Sauvignon Blanc, Ant Moore, New Zealand
Chardonnay, Berton, Australia
Rosé, Fleurs de Prairie, France

red
Red Blend, Two Birds One Stone, France
Montepulciano d'Abruzzo, "Moda", Italy
Malbec, Lunta, Argentina
Pinot Noir, Folly of the Beast, California
Cabernet Sauvignon, Jones of Washington
Cabernet Sauvignon, Chop Shop, California
beer & cocktail kits
6-pack mix-n-match bottles + cans | 6
bartender's choice
Swing Barrel Brewing Co. "Rustica Red" Irish Ale | 10
crowler (750ml can)
bloody mary kit | 20
quart of house mix, house pickled veggies, antipasto skewers, serves 2-4
mimosa kit | 22
fresh squeezed orange juice, 750ml bottle of cava, serves 2-4
blueberry basil gimlet mix | 20
fresh squeezed lime juice, simple syrup, serves 2-4
lemonade mix | 15
fresh squeezed lemon juice, simple syrup, serves 4
DINNERS FOR 2
Dinners for 2 are cooked to order + can be picked up from 5-9 pm Tues-Sat. Served hot and ready to enjoy!
Weekly Special — Call for Details
includes salad + parmesan popovers
A LA CARTE
QUART of CHEF'S SOUP | 12
HUMMUS [4 oz.] | 8
SPINACH PESTO [4 oz.] | 8
SUNDRIED TOMATO PESTO [4 oz.] | 8
CATERING SERVICES
Make your event more memorable with catering from Rustica, perfect for virtual events & celebrations at your home, office, or our restaurant venue.
Off-site Catering
Individually portioned meals offer a convenient way to entertain guests at your next virtual event, party, or business meeting. Whether you're looking for a fully prepared entree or a dish to reheat yourself, our individual meals are beautifully arranged and garnished using only the freshest ingredients and can be picked up or delivered.
On-site Catering
Our restaurant provides the perfect setting for hosting your next event. We offer plated dinners and receptions. Our venue is available for a buyout during our regular business hours Tuesday-Saturday. Please inquire for room rental fees & minimum sales required.
Rustica Eatery can accommodate 25 seated guests.
Rustica Tavern has space for 25 seated guests.
For more information, please contact us at 218.227.5388 or fill out the form below.
ABOUT
OUR RESTAURANT
RUSTICA Eatery & Tavern
Rustica is located in downtown Moorhead, MN. We boast a cozy neighborhood atmosphere in the historic 1898 Kassenborg Block building, just east of the Main Avenue bridge.
The Eatery features a rustic ambiance with exposed brick creating a warm, comfortable dining experience. Executive Chef Micah Leitel is dedicated to offering high quality, seasonally focused products and executes the diverse menu based on traditional American fare with European influences.
The Tavern's wood burning pizza oven and copper beer taps spawn a more casual bar atmosphere. The innovative pizza menu is fun and the pizzas are exceptional.
Parking is available on the street, as well as in the parking ramp southwest of the building.
OUR TEAM
Anna Weisenburger | General Manager & Owner
Having spent nearly half of her life working in restaurants, ownership was the obvious next step for General Manager & Owner, Anna Weisenburger. Growing up on a farm near Spiritwood, North Dakota offered Anna an early introduction to the farm-to-table culinary concept. At one point while attending college in Valley City, she worked in three restaurants at once–and still ended up with student loan debt!–including her favorite job at an order-off-the-menu Chinese restaurant. After moving to Fargo in 2015 and managing a handful of F/M restaurants, Anna seized the opportunity to call Rustica home last spring in the role of Restaurant Manager. The service industry was supposed to be temporary employment, but food and beverage quickly turned into a passion which Anna focuses on the front of house at Rustica.
When not at Rustica, you can find Anna relaxing with her partner, Wolfgang, and their two cats, Bean and Zero. With an adventurous palate, she enjoys visiting the friends she's made at many of the other local restaurants and sampling their creations. The sense of community Anna has found in the Fargo/Moorhead area was a driving factor in her decision to lay roots and share ownership of a business that she loves.
Micah Leitel | Executive Chef & Owner
Executive Chef & Owner, Micah Leitel, uses fresh, locally-sourced products whenever possible to execute a craft menu based on traditional American fare with European influences. As the head of our culinary team, Micah is dedicated to offering high quality seasonally focused menus with a strong emphasis on traditional food preparation that he has learned over the years. Micah's main goal at Rustica is consistency in the kitchen, as he wants to provide the same experience to patrons as they have come to expect. He aims to offer guests the option to choose their own adventure—whether that be fast-casual in the Tavern or fine dining in the Eatery, the choice is theirs for the evening.
In his spare time, Micah enjoys scratching vinyl with guest appearances for local musicians and spending time with his three cats, Ming Ming, Scarf & Ruby. His passion for all things culinary also extends into his love of artisanal, handcrafted chef's knives. You can follow Chef Micah Leitel's inspired offerings on Instagram @dinerustica.
CONTACT
We are happy to provide you with more information on our dining, event rental and catering services. Please fill out the form below and one of our event experts will be in touch with you to answer your questions or assist in coordinating your event.
Rustica is located at 315 Main Avenue in Moorhead, Minnesota. View map. You may contact us by phone at 218.227.5388.