EATERY MENU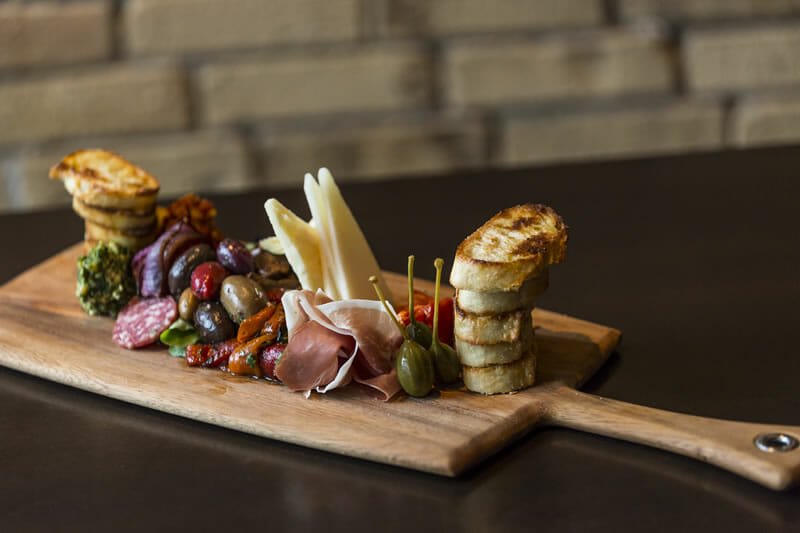 ENTREES
Filet Mignon with Smoked Bacon & Roasted Shallots (gf+r) ~35
Horseradish-Herb Butter, Crispy Fingerling Potatoes
Beef Sirloin Steak with Fried Avocado (gf+r) ~29
Mascarpone Polenta, Corn Salsa, Cracked Pepper Demi Glace
Chianti Braised Beef Tenderloin Tips (gf+r) ~29
Parmesan Mashed Potatoes, Fire Roasted Bell Peppers
Coffee Braised Lamb Shank with Chickpea Cake ~30
Watercress, Cured Egg, Almonds, Pickled Onions
Duck Breast Pastrami (gf+r) ~28
Herb Gnocchi, Braised Red Cabbage, Brussel Sprouts, Grain Mustard Sauce
Cornmeal Dusted Walleye Fillet & Sweet Garlic Shrimp (gf) ~32
Lump Crab, Saffron Beurre Blanc, Pesto Potatoes, Tomato-Basil Relish
Pork Loin Saltimbocca (gf) ~24
Fresh Sage, Prosciutto, Rustic Fritas, Lemon-Caper Cream Sauce
Roasted Breast of Chicken with Maple Cranberry Glaze (gf+r) ~23
Sweet Potato Mash, Candied Bacon Relish
Salisbury Steak with Broiled Portobello Mushroom (gf+r) ~22
Fried Egg, Caramelized Onions, Parmesan Mashed Potatoes
Pappardelle Pasta ~18
Chile Braised Beef, Roasted Garlic, Manchego Cheese, Pesto
or
Smoked Salmon, Artichoke, Caper, Sundried Tomato, Kalamata Olive
The Rustica Burger (gf+r) ~15
Mahon, Cheddar, Caesar Aioli, Roasted Onion, Rustic Fritas
gf = gluten friendly |  gf+r = gluten friendly upon request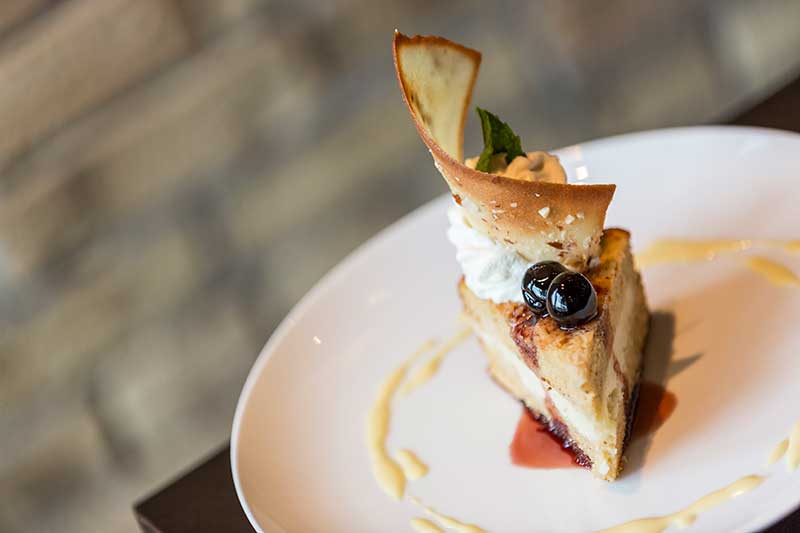 STARTERS
Seared Sea Scallop and Prosciutto Wrapped Shrimp (gf) ~14
Saffron-Chorizo Risotto, Romesco Sauce
Antipasto (gf+r) ~13
Prosciutto, Salami, Olives, Balsamic Mushrooms, Cheese, Bread
Burrata Cheese & Marinated Grape Tomatoes (gf+r, v) ~12
Toasted Bread, Pesto, Balsamic Syrup
Crispy Pork Belly (gf) ~11
Avocado-Basil Salsa, Sundried Tomato Pesto
Fingerling Potato Poutine with Mahon Cheese (gf+r) ~11
Smoked Bacon, Chile Beef, Roasted Garlic & Beef Gravy
Roasted Vegetables (gf+r, v) ~10
Hummus, Pesto
Spanish Style Meatballs ~8
Sherry-Mushroom Cream Sauce, Prosciutto, Manchego Cheese
Chile Braised Beef Tacos ~8
Tomato Relish, Roasted Garlic & Creme Fraiche
Bacon Wrapped Chorizo Stuffed Dates (gf) ~8
Chile Aioli
SALADS
Kale Caesar with Roasted Garlic & Tomato Confit (gf+r) ~8
Herb Croutons, Lemon-Parmesan Dressing
Petite Greens with Fresh Berries & Toasted Almonds (gf) ~8
Spanish Bleu, Crispy Prosciutto, Sherry Vinaigrette
Baby Spinach & Fried Brie (gf+r) ~8
Apple, Pecan, Smoked Bacon, Balsamic Dressing
SOUPS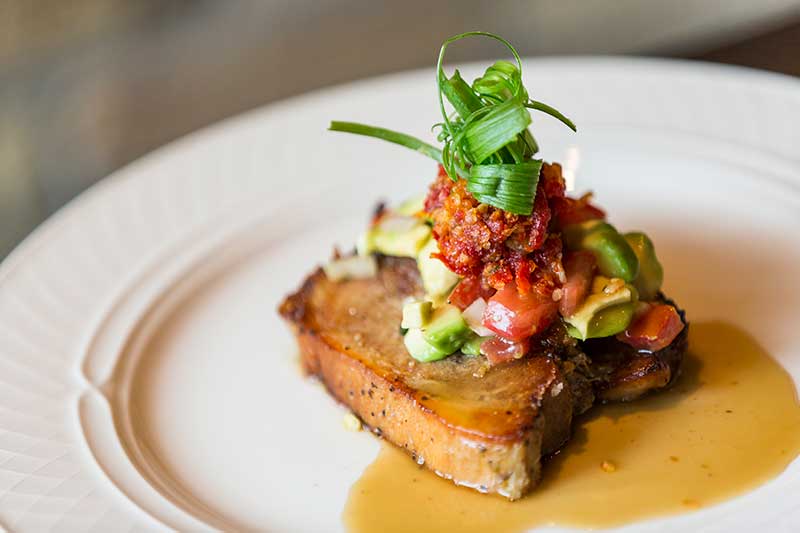 SIDES
Rustic Fritas ~6
Parmesan Mashed Potatoes ~6
Fingerling Potatoes ~6
Sweet Potato Mash ~6
Mascarpone Polenta ~6
DESSERTS
Flourless Chocolate Cake with Chianti Macerated Berries Maple ~8
Tres Leches Cake with Almond Tuile & Italian Maraschino Cherries ~8
Maple Crème Brûlée with Cinnamon Mascarpone ~8
Churros with Chocolate Sauce & Fresh Strawberry Coulis ~8
TAVERN MENU
STARTERS
Seared Sea Scallop and Prosciutto Wrapped Shrimp (gf) ~14
Saffron-Chorizo Risotto, Romesco Sauce
Antipasto (gf+r) ~13
Prosciutto, Salami, Olives, Balsamic Mushrooms, Cheese, Bread
Buttermilk Fried Chicken ~12
Green-Chile Ranch, Tomato Preserves
Burrata Cheese & Marinated Grape Tomatoes (gf+r, v) ~12
Toasted Bread, Pesto, Balsamic Syrup
Fingerling Potato Poutine with Mahon Cheese (gf+r) ~11
Smoked Bacon, Chile Beef, Roasted Garlic & Beef Gravy
Crispy Pork Belly (gf) ~11
Avocado-Basil Salsa, Sundried Tomato Pesto
Roasted Vegetables (gf+r, v) ~10
Hummus, Pesto
Spanish Style Meatballs ~8
Sherry-Mushroom Cream Sauce, Prosciutto, Manchego Cheese
Chile Braised Beef Tacos ~8
Tomato Relish, Roasted Garlic & Creme Fraiche
Bacon Wrapped Chorizo Stuffed Dates (gf) ~8
Chile Aioli
gf = gluten friendly  |  v = vegetarian  |  gf+r = gluten friendly upon request
SALADS
Kale Caesar with Roasted Garlic & Tomato Confit (gf+r) ~8
Herb Croutons, Lemon-Parmesan Dressing
Petite Greens with Fresh Berries & Toasted Almonds (gf) ~8
Spanish Bleu, Crispy Prosciutto, Sherry Vinaigrette
Baby Spinach & Fried Brie (gf+r) ~8
Apple, Pecan, Smoked Bacon, Balsamic Dressing
SOUPS
SIGNATURE 10`` PIZZAS
The Haole ~12
Pork Belly, Pineapple, Roasted Jalapenos, Mozzarella, Provolone, Tomato Sauce
The Quixote ~12
Chorizo, Olives, Rosemary, Roasted Tomatoes, Grand Queso
The Roman ~12
Italian Sausage, Parmesan, Ricotta, Sweet Onion, Roasted Tomato
French Farmer ~12
Béchamel, Wild Mushroom, Camembert, Egg, Spinach, Truffle Oil
Oaxacan ~12
Chile Beef, Chocolate Mole, Sweet Onion, Roasted Garlic, Manchego, Grand Queso, Cilantro Crema
The Decoy ~12
Duck Confit, Roasted Grape, Roasted Garlic, Goat Cheese, Basil, Balsamic Syrup
The Steadfast ~12
Pepperoni, Tomato Sauce, Mozzarella, Parmesan
The Mediterranean ~12
Roasted Bell Pepper, Olive, Caper, Artichoke, Sundried Tomato, Pine Nuts
BBQ Chicken ~12
Chicken, BBQ Sauce, Provolone, Mozzarella, Sweet Onions, Roasted Garlic
Margherita ~9
Roasted Tomato, Mozzarella, Basil
The Bambino ~8
Tomato Sauce, Mozzarella
Build-Your-Own ~8
Your Choice of:
Sauce~ Béchamel, Tomato, Pesto, Olive Oil
Cheese~ Fresh Mozzarella, Parmesan, Ricotta, Provolone
Meat~ Italian Sausage, Chorizo, Chicken, Smoked Bacon, Pepperoni +2/meat
Vegetables~ Roasted Bell Pepper, Sundried Tomato, Roasted Tomato, Olives, Capers, Spinach, Artichoke, Sweet Onion, Roasted Garlic, Wild Mushrooms +1/vegetable
HAPPY HOUR
5-6pm & 9-11pm Tuesday through Saturday
Eatery and Tavern
1/2 price starters and pizzas!
HAPPY HOUR LIBATIONS
Select Beer ~3
Grillo, Fazio, Sicily ~7
Red Blend, "Flying-Solo" Grenache/Syrah, France ~7
Blue Dream ~7
Stoli Blueberry, Pama Liqueur, Fresh Lime Juice, Simple Syrup, Muddled Blackberry, Champagne
Aventador ~7
Sparkle Donkey Reposado Tequila, Bauchant, Aperol, Fresh Lemon Juice, Simple Syrup & Fresh Mint Leaves
HAPPY HOUR MENU
Seared Sea Scallop & Prosciutto Wrapped Shrimp (gf) ~14/7
Saffron-Chorizo Risotto, Romesco Sauce
Antipasto (gf+r) ~13/6.50
Prosciutto, Salami, Olives, Balsamic Mushrooms, Cheese, Bread
Buttermilk Fried Chicken ~12/6
Green-Chile Ranch, Tomato Preserves
Burrata Cheese & Marinated Grape Tomatoes (gf+r, v) ~12/6
Toasted Bread, Pesto, Balsamic Syrup
Fingerling Potato Poutine with Mahon Cheese (gf+r) ~11/5.50
Smoked Bacon, Chile Beef, Roasted Garlic & Beef Gravy
Crispy Pork Belly (gf) ~11/5.50
Avocado-Basil Salsa, Sundried Tomato Pesto
Roasted Vegetables (gf+r, v) ~10/5
Hummus, Pesto
Spanish Style Meatballs ~8/4
Sherry-Mushroom Cream Sauce, Prosciutto, Manchego Cheese
Chile Braised Beef Tacos ~8/4
Tomato Relish, Roasted Garlic & Creme Fraiche
Bacon Wrapped Chorizo Stuffed Dates (gf) ~8/4
Chile Aioli
The Rustica Burger (gf+r) ~15/7.50
Mahon, Cheddar, Caesar Aioli, Roasted Onion, Rustic Fritas
gf = gluten friendly |  gf+r = gluten friendly upon request
SALADS
Kale Caesar with Roasted Garlic & Tomato Confit (gf+r) ~8/4
Herb Croutons, Lemon-Parmesan Dressing
Petite Greens with Fresh Berries & Toasted Almond (gf) ~8/4
Spanish Bleu, Crispy Prosciutto, Sherry Vinaigrette
Baby Spinach & Fried Brie (gf+r) ~8/4
Apple, Pecan, Smoked Bacon, Balsamic Dressing
SOUPS
CATERING SERVICES
Make your event more memorable with Mosaic Catering, perfect for celebrations at your home, office or in one of our restaurant venues.
Off site Catering
Platters are a convenient way of serving a variety of foods at your next gathering, party or business meeting. Our platters are beautifully arranged and garnished using only the freshest ingredients and can be picked up or delivered.
On site Catering
Our restaurants provide the perfect setting for hosting your next event. We offer buffet style brunches, dinners and receptions. Our venues are available anytime on Sunday or Monday and from 10am-3pm Tuesday through Saturday. Whether you prefer the eclectic ambiance of Mezzaluna or the cozy charm of Rustica, the room is included with our catering services.  Please inquire for minimum sales price.
Mezzaluna can accomodate 130 guests. The mezzanine area, which seats 25-30 is available for private events every day of the week.
Rustica Eatery can accommodate 60 guests.
Rustica Tavern has space for 60 guests and is available for wood fired pizza parties anytime on Sundays and Mondays.  We also offer private pizza lunches and meetings Tuesday through Saturday 10-3pm.
For more information, please contact us at 701.373.7805 or fill out the form below.
ABOUT
OUR RESTAURANTS
RUSTICA Eatery & Tavern
Rustica is located in downtown Moorhead, MN a short drive from our original restaurant, Mezzaluna – dinemezzluna.com, in Fargo. We boast a cozy neighborhood atmosphere in the historic 1898 Kassenborg Block building, just east of the Main Avenue bridge.
The Eatery features a rustic ambiance with exposed brick creating a warm, comfortable dining experience. Executive Chef Eric Watson is dedicated to offering high quality, seasonally focused products and has created the diverse menu based on traditional American fare with European influences.
The Tavern's wood burning pizza oven and copper beer taps spawn a more casual bar atmosphere. The innovative pizza menu is fun and the pizzas are exceptional.
Parking is available on the street, as well as in the parking ramp southwest of the building.
Mezzaluna
Mezzaluna is a casual, fine dining establishment in downtown Fargo. We are located just behind the historic Fargo Theatre, a short jaunt across the Red River from our Moorhead, MN restaurant RUSTICA – dinerustica.com. Built in 1917 as the Smith, Follett & Crowl office and warehouse, the building's historical features have been preserved creating the perfect atmosphere for the eclectic ambiance of Mezzaluna.
The Dining Room features a chic, relaxed atmosphere. Posh, high backed, semi-circular banquettes surround our dining room and offer comfortable and private seating. Utilizing locally sourced products, Executive Chef Eric Watson has developed a seasonally inspired menu based on traditional American fare. A diverse wine list has been created to complement the cuisine.
The Alleyway Bar offers an informal, upbeat vibe featuring ice cold Grey Goose on tap. Whether seated around the horseshoe bar, at the high top tables, or in the mezzanine overlooking the bar, you can enjoy the full dinner menu or indulge in delectable appetizers.
Our manager, Taylor, along with the entire crew will make you feel right at home with their gracious hospitality.
Free parking is available on the street, in the lot on the north side of the building and in the parking ramp on the corner of Roberts and 2nd Avenue (free after 5pm and weekends).
OUR TEAM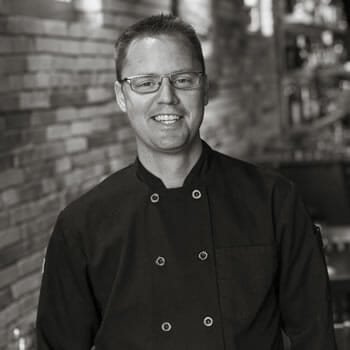 Eric Watson | Executive Chef
Eric's passion for all things culinary originated in a quaint Colorado town where he grew up. Small game hunting and trout fishing helped guide him to a style of cooking based on whole, fresh ingredients. Eric believes food should be prepared with quality ingredients and classic technique combined with a simplistic approach.
Eric began his restaurant career as a dishwasher and bus boy. His first culinary position was at the Sopris Restaurant in Glenwood Springs, Colorado, working under a Swiss born chef. He worked passionately to master the basics of knife skills and "Garde Manger" also paying close attention to every move the senior chefs made throughout their shift.
Chef Eric pursued formal culinary training immediately following high school graduation. During his time as a culinary apprentice, he traveled throughout the United Stated with a culinary team, taking part in multiple cooking competitions. Eric has cooked in numerous fine dining establishments in Colorado, Arizona, Hawaii and Rhode Island. He never would have imagined ending up in Fargo/Moorhead, but if asked now, he can't imagine living anywhere else.
Please follow Eric on Facebook to keep up-to-date on news, cooking tips, recipes, and culinary excursions!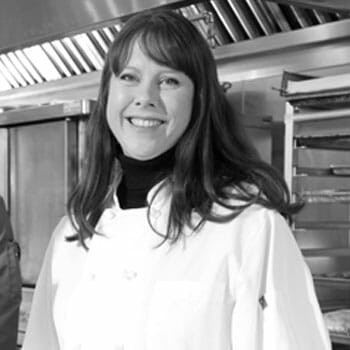 Sara Watson | Business Manager
Sara is a Red River Valley native; she grew up on a farm near Glyndon, MN. Being raised as a farm kid gave her a lifelong love of learning about food, and a passion for local foods and supporting our local growers.
After high school, Sara attended the University of Minnesota in Minneapolis where she obtained a bachelor degree in Art History. Throughout this time, she worked in restaurants in Minneapolis where she developed a love for cooking and entertaining. This led her to pursue training in the culinary arts in Colorado.
Sara graduated from a three year culinary apprenticeship of Keystone Resort in Summit County, Colorado. She is a certified culinarian through the American Culinary Federation and possesses an Associate's degree in Applied Science in Culinary Arts.
Sara and Eric met in Colorado but decided to open their business in the Red River Valley. As the business has grown, so has their family. Four kids and their activities keep Sara running around more than working in the kitchen. Her role in the business has changed throughout the years from cook to Business Manager. She handles the bookkeeping, publicity and marketing for the company. An avid gardener, Sara also enjoys educating her own kids about whole foods, where their food comes from, and nutrition. Sara volunteers in the schools with the EAT program through the Barry Foundation which focuses on these matters as well.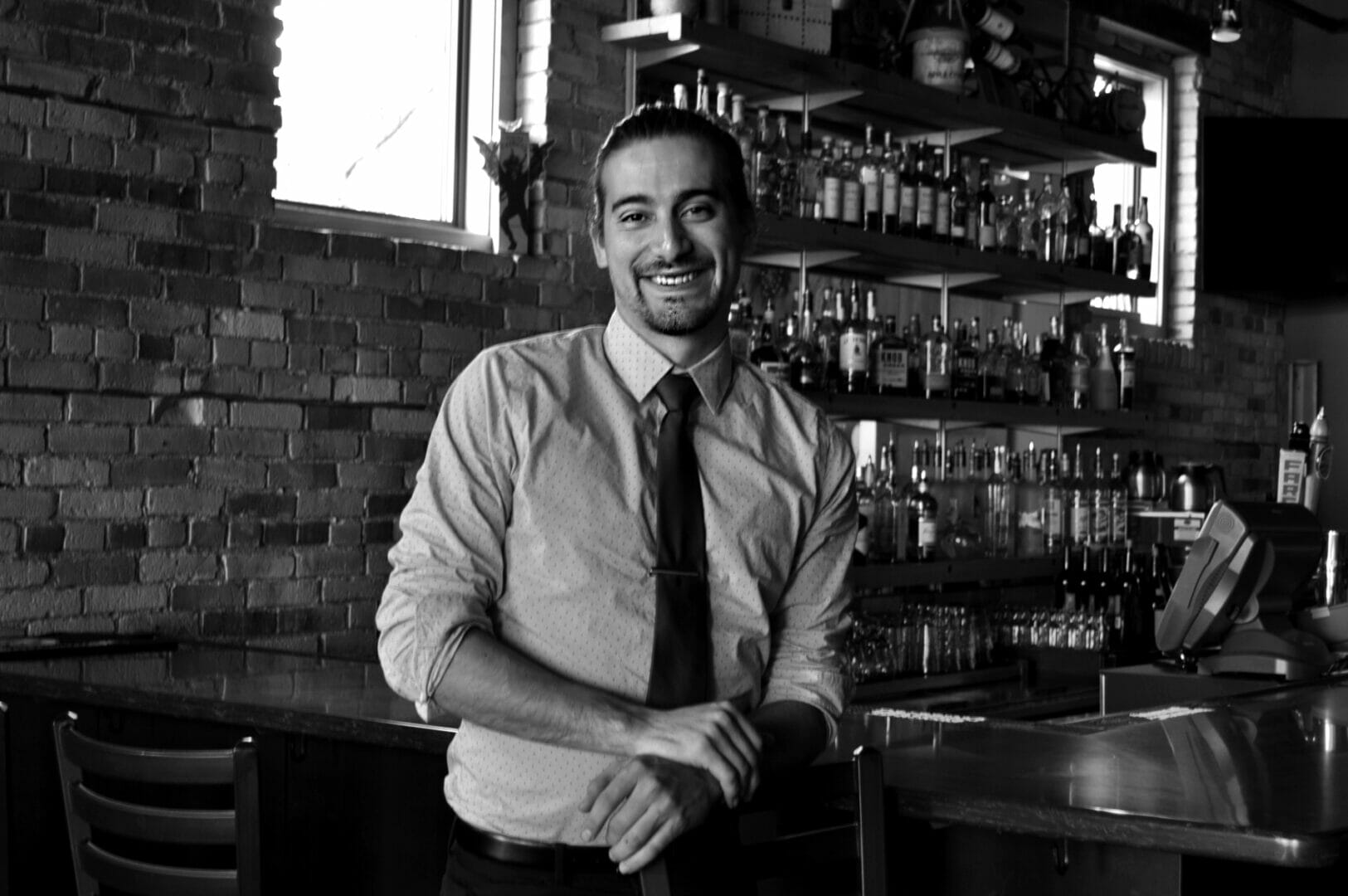 Mark Segovia | Restaurant Manager
Locally born and raised in Minnesota, Mark uprooted from Plymoth, MN with his family and transplanted to Glydon, MN in 2003. After graduating from Oak Grove High School in 2009, Mark began his journey leading & training computer systems at Sanford Hospital in the IT Department. It was here where his natural talent of guidance and trust was able to shine through.
In 2011 Mark started serving at John Alexanders. He later worked his way up to bartending and found a love for crafting the perfect libation for his customers. Shortly after Rustica opened in 2014, Mark joined the family. His passion for wine and taking care of others grew exponentially, leading him to Managing Rustica Eatery & Tavern.
With sharing his knowledge of wine and passion for craft, Mark aims to help everyone find something new and exciting while still being approachable.
CONTACT
We are happy to provide you with more information on our dining, event rental and catering services. Please fill out the form below and one of our event experts will be in touch with you to answer your questions or assist in coordinating your event.
Rustica is located at 315 Main Avenue in Moorhead, Minnesota. View map. You may contact us by phone at 218.227.5388.
GIFT CARD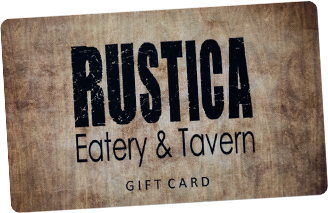 Enter the gift card amount and click on the Proceed to Paypal button to complete your transaction.